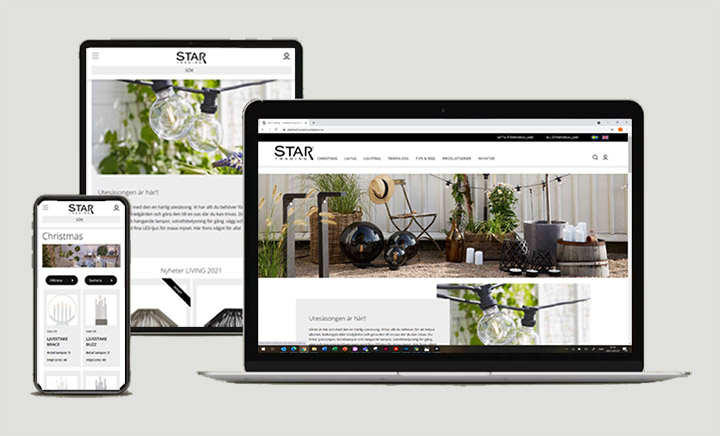 5/25/2021
We proudly present our new website!
Today, we launch our new website. With the goal of an improved user experience, we have modernised, freshened up, and improved functionality. Welcome!
Now it will be even simpler for you to do business with us!
Many of you visit our website every month on both mobile, tablet, and computer to get inspiration, information, and to make purchases. We have boosted the existing functionality with this update, plus we have tightened a few bolts and trimmed a bit. Among other things, you will notice a considerably improved responsiveness which makes it more pleasant and easier to browse on mobile and tablet. In addition, the website is built on a whole new platform which will speed up your visit. All to make it simpler for you to do business with us. If you find anything that's seems awry or if you have ideas, questions, or concerns we would be happy to hear from you at webb@startrading.com. Thank you!

Two pictures for one!
A new feature is that you will be given two pictures of each product - without having to click on it! Simply hover the cursor over the product you're interested in and you will see an alternative picture, often a picture of the product in an environment. In this way, we make it easier for you to quickly get a good idea of the product!

Smart tools to make your job easier!
Before, tools such as search, checkout, and export were in a separate left-side menu. To achieve a more user-friendly interface, we have moved these to the right-side of the screen and grouped them a bit differently. You will now find EXPORT, MY FAVOURITES, and DROPZONE in the top-right corner of the black menu-header while search, login / my pages, and cart can be found as icons just below, in the white menu bar.
In DROPZONE you can easily copy article numbers from, for example, and Excel file. From there, you can then add them to your favourites or straight to you cart. Quick, easy, and very smooth.
In MY FAVORITES, product you've added to your favourites either though DROPZONE or by clicking the heart of products you want to save are gathered. You can save different lists of favourites and, for example, name it after a season you are planning to purchase for. The list stays there and can be added to and edited.
In EXPORT, you easily export a list of favourites or a product category to Excel or as a PDF.

Book your visit on the website!
As a reseller, you are more than welcome to visit us! Whether you want to di this digitally or physically, it's easiest to book your visit through the form on the website. You can find this under "Meet us". Your seller will guide you through our 1.200 m2 showroom so that you can make your purchases in the most simple and effective way.