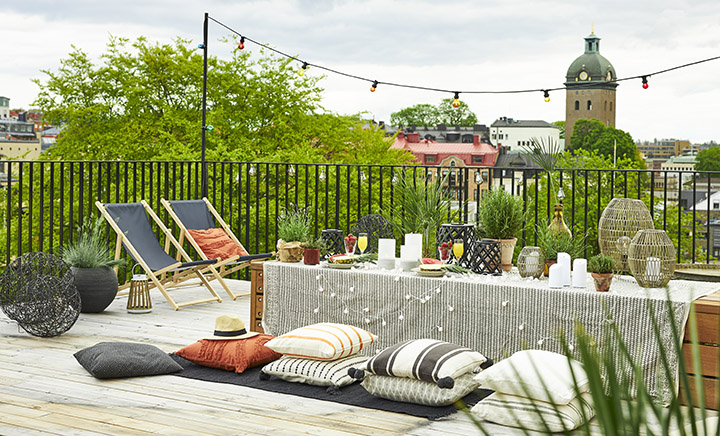 4/6/2021
Decorate outdoors – create magic in your garden
These days, we increasingly socialize outdoors, a trend we can see will continue and even increase. Our dinners, parties, and perhaps even movie-nights are being moved out of the kitchen and living room. With the help of outdoor lighting, small rooms can be created outdoors and increase the cosiness factor a litte extra.
We now socialise differently

The change in behaviour we have noticed with regards to how we socialise in the past year will linger. Previously, it has been important for many to create a cosy and festive atmosphere indoors and now this need is also being moved outdoors. As socializing is moved outdoors, the offer of outdoor lighting is becoming greater. This spring's LIVING collection contains a large amount of lighting news for your conservatory, porch, balcony, and garden.
Solar cells are becoming more popular

Outdoor lights which resemble traditional indoor lighting is a clear trend. Other products which enjoying increased popularity are solar cell products which exists as everything from path- and wall lights, and light chains to decorations for pots and flowerbeds. Solar cell lighting become better and better as the technology advances and is refined and today, the lights are really good. And it's so easy – you don't have to bother with cables and installations. That it's also environmentally friendly and a sustainable option is also a bonus.